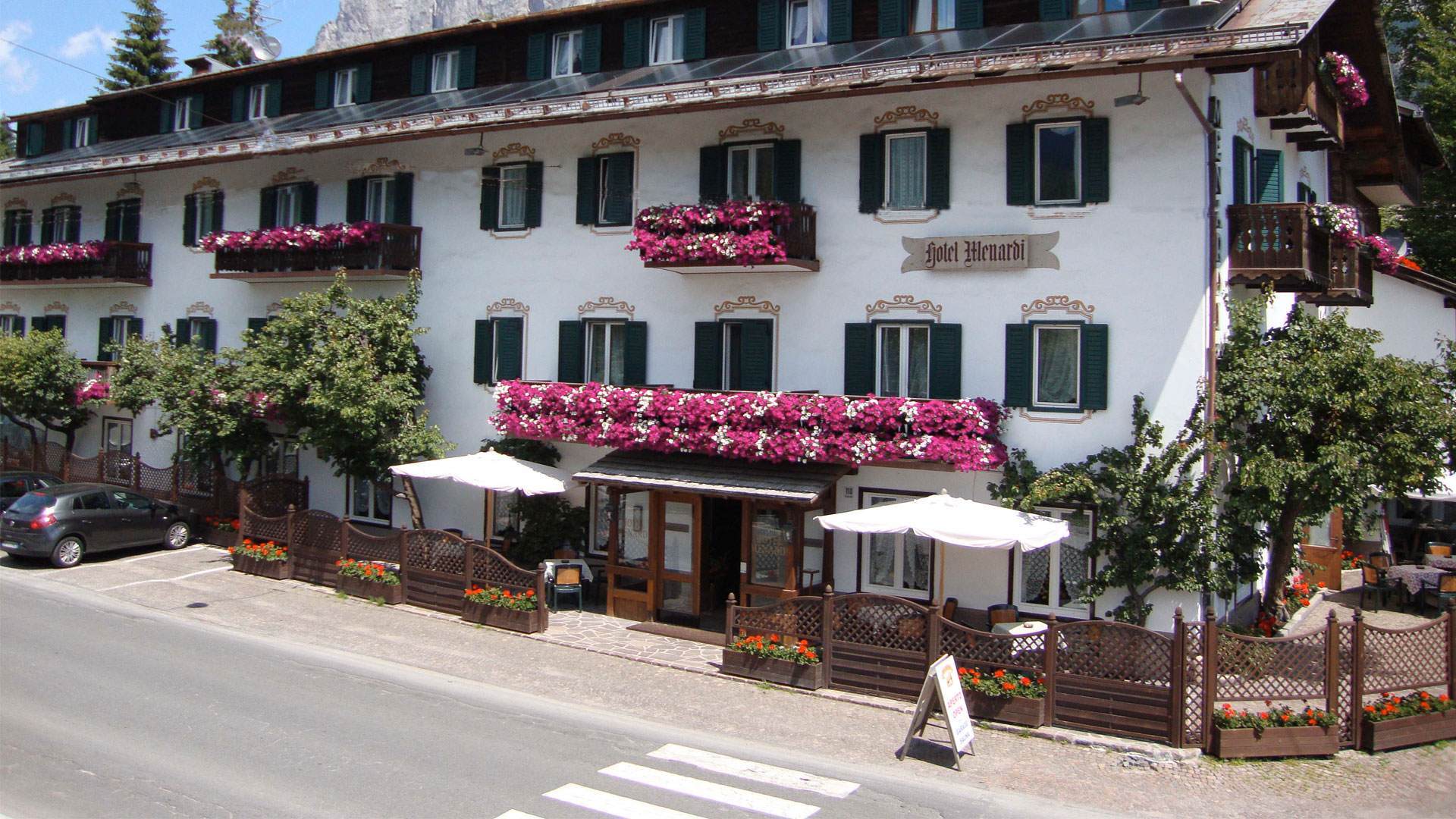 In the bracing mountain air overlooking the spectacular and bright amphitheater of the Dolomites, the Menardi Hotel in Cortina d'Ampezzo is easily accessible from national road 51 Alemagna.
The hotel is less than one mile from downtown Cortina towards the North, also accessible after a pleasant walk along the illuminated pedestrian walkway.
The Menardi Hotel, outside the limited traffic zone of the historic center, conveniently offers free private parking. Or, the bus stop is just in front of the property.

How to reach Cortina by CAR
Coming from the South of Italy: Cortina d'Ampezzo can be reached through the A27 motorway, from Venice to Pian di Vedoja (Belluno), with the connection to Strada Statale (A-road) 51 d'Alemagna and follow the directions to Cortina d'Ampezzo. The hotel is situated km.1,3 from the center heading North towards Dobbiaco.
Coming from the North of Italy: from Brennero, Cortina can be reached through A22 motorway, Bressanone exit. Follow Strada Statale (A-road) in the direction of Dobbiaco and take a right to Cortina d'Ampezzo SS51. The hotel is situated km.1.3 before the center on the lift side.
How to reach Cortina by PLANE
The nearest airports are in Treviso (136km), in Venice (148 km) , in Verona (272 km) and Bergamo (369 km). All these airports offer a regular bus service to and from Cortina with Cortina Express. www.cortinaexpress.it The prices to are not that expensive and the service provides transfers from Milan and Bologna too. On line booking is compulsory.
How to reach Cortina by TRAIN
The nearest railway station is in Calalzo di Cadore, 35 kilometres from Cortina. The main railway line is the Venezia S. Lucia – Calalzo di Cadore. From the railway station there is a regular bus service connection to Cortina. From Mestre it takes 3,5 hours. Train time table at www.trenitalia.com
The nearest railway north is Fortezza – Dobbiaco. From the railway station there is a regular bus service connection to Cortina. For more info website Sistema Trasporto Integrato of the Province of Bolzano.
From Innsbruck there is a train that leave every hour from 11 am to 8 pm the journey takes 4 hours (from Innsbruck to Fortezza and then to Dobbiaco by train then bus service connection to Cortina).
There is a new service called "The mountain railways": in the daytime, Eurostar Italia services run from Rome and Milan to Mestre/Cortina.
You can travel by Eurostar Italia from Rome (Roma Termini station) and from Milan to Mestre (mainland Venice). From Mestre, special shuttle buses wait to take you to Cortina, with connections coinciding with the arrival/departure times of your train. Info at www.cortinaexpress.it
How to reach Cortina by BUS
There are also regular bus services to and from Venice with stop at Mestre and Treviso. The journey takes about 3 hours and 15 min. During the high season there is a daily service, whereas, in other periods of the year, the service is provided on Saturdays and Sundays only. Booking is required. www.cortinaexpress.it